Dental bridges restore the aesthetics and chewing function. Modern dentistry offers various possibilities of bridges. These include the Maryland Bridge or the telescopic bridge. As your dentist in Aachen, we will be happy to advise you individually which solution is the best for you.
SUPPORT FOR DENTAL ANXIETY: WE ARE HAPPY TO HELP YOU!
As your dentist in Aachen, we respond to your individual needs. You can reach us during our office hours by telephone on 0241-20999, in person in our dental practice in Aachen or by email. We are looking forward to meeting you.
VARIATIONS OF DENTAL BRIDGES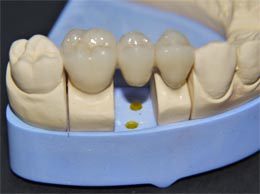 Bridges are used to close gaps between teeth. With a dental bridge a gap of up to three adjacent teeth can be closed. A differentiation is made between fixed and removable versions. For a strong stability of the bridge, it is attached to the adjacent teeth.
There is also the possibility of dental implants as fixed dental prosthesis. The advantage of implants is, besides other things, the high level of wearing comfort. We obtain the dentures for our patients exclusively from German master laboratories in Aachen and Cologne.