DENTAL PROSTHESIS IN AACHEN
There are several reasons for a dental prosthesis: Teeth have been lost due to an accident, teeth have to be extracted or fall out. A suitable dental prosthesis can help to avoid tooth gaps. As your dentist in Aachen, we offer you a variety of materials and forms of dentures.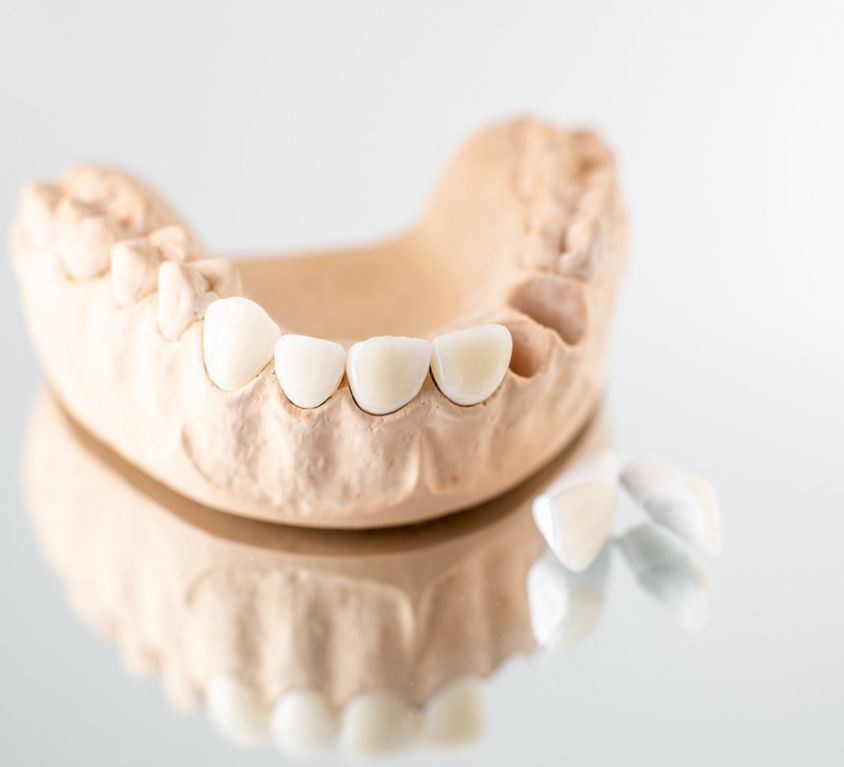 SUPPORT FOR DENTAL ANXIETY: WE ARE HAPPY TO HELP YOU!
As your dentist in Aachen, we respond to your individual needs. You can reach us during our office hours by telephone on 0241-20999, in person in our dental practice in Aachen or by email. We are looking forward to meeting you.
DIFFERENT TYPES OF DENTURES
A general difference is made between fixed and removable dentures. Fixed dentures include bridges and crowns, for example. In contrast, removable dentures include partial and full dental prostheses. One part is fixed and the other part is removable. With fixed prostheses, every healthy tooth must be able to absorb the pressure of a missing tooth. Two healthy abutment teeth are necessary to replace two teeth. The advantage of fixed dentures is that they are most similar to natural teeth when it comes to eating and speaking. The durability of the dental prosthesis is also very good. We use crowns and bridges made of all-ceramic materials. No metal is used at all. This dental prosthesis is also invisible in the future, as the ceramic has properties similar to those of teeth and its colour matches the other teeth perfectly. There is almost no risk of allergies.
Furthermore, there is the possibility of dental implants as fixed prosthesis. The advantage of implants is, besides other things, the high comfort of its wearing. We obtain the prosthesis for our patients exclusively from German master laboratories in Aachen and Cologne..
High quality dental prosthesis from Germany
Dentures for all needs
Most innovative technology for highest precision
Individual solutions