If a restoration with inlays or fillings is no longer possible due to caries or an accident, a crown can be used. A dental crown restores the stability of the tooth and the chewing function. The crown covers the remaining tooth substance.
SUPPORT FOR DENTAL ANXIETY: WE ARE HAPPY TO HELP YOU!
As your dentist in Aachen, we respond to your individual needs. You can reach us during our office hours by telephone on 0241-20999, in person in our dental practice in Aachen or by email. We are looking forward to meeting you.
WHAT KIND OF CROWNS ARE USED?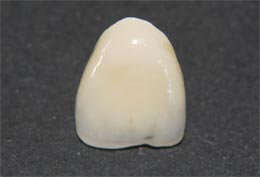 A differentiation is made between full ceramic, single tooth and partial crowns. Ceramic crowns achieve the highest aesthetic demands and are extremely durable. The advantage of dental crowns is that they protect the tooth from further damage and thus preserve the natural tooth substance. If you are looking for a dentist for crowns in Aachen, we will be happy to advise you.
We obtain the prosthesis for our patients exclusively from German master laboratories in Aachen and Cologne.